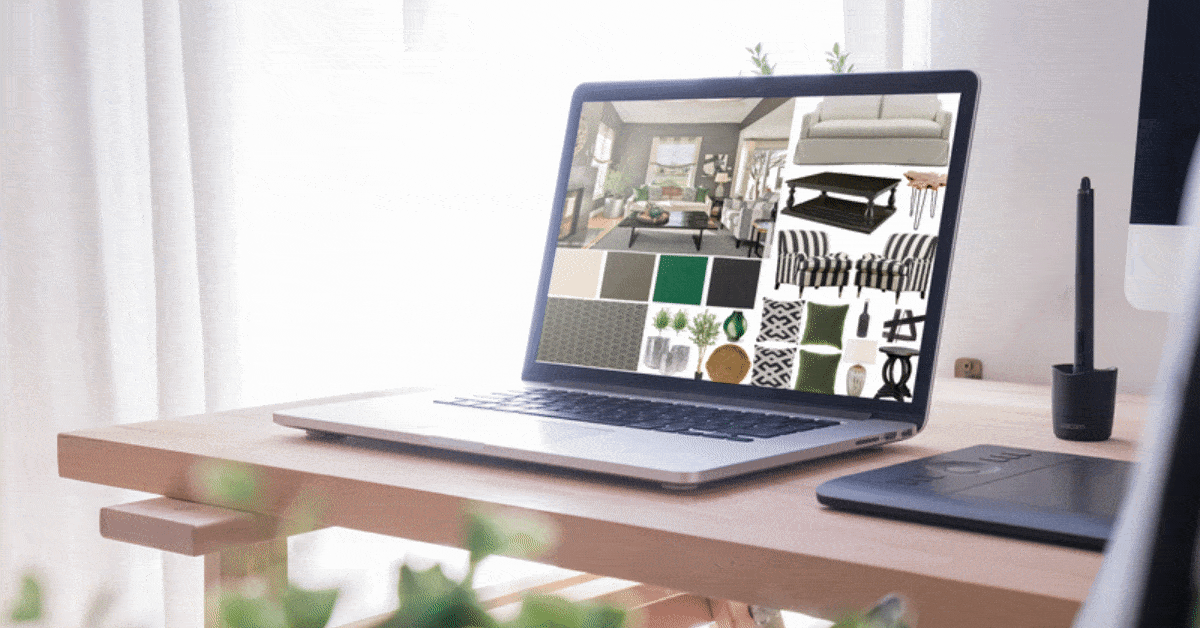 What is e-Design?
E-Design is using online technology to allow a designer to provide inspiration, expert product sourcing and design expertise in a detailed room plan with shopping links at a fraction of the cost of full service design.
The Benefits of E-Design:
• Provides a detailed and compelling "visual" so you can see products within the space
• Is extraordinarily budget friendly because you're only paying for the expertise and not the time consuming shopping time of the designer – Design for all!
• Creates a cohesive "plan" for your space before spending on expensive items that don't go with one another
• Allows you to phase and control your design budget completely room by room
• Saves you tons of time sourcing for products in an overwhelming online space…we are experts at shopping and knowing where to find those perfect items.
• Helps you avoid costly mistakes because a plan with a visual sets the expectation of the room while showing items that may not fit the space or overall budget
• Shows you to scale what items will work best next to one another
• Keeps you to a design style that works in your home, with your lifestyle and true to you
• Starts with what you own and love, then builds upon that style for a cohesive, affordable layout.​
This is an introductory list of some of the vendors that we will use to source your beautiful furniture and décor.
*if you have a favorite vendor that is not listed, please be sure to include the request in the design questionnaire upon purchasing your design package.
we will be adding new vendors on a regular basis.​
E-Design Packages Available
E-Design Basic Package (1 Room) - $250

Includes:

• Discovery 30 Min Zoom Call to discuss project with your Designer

• Project Instruction and Budget Guide

• 1 Draft Design Board for Client Revisions

• 1 Round of Client Feedback/Revisions

• 1 Final Design Board with Furniture & Décor selections. Board delivered within 2 weeks (time frame is dependent on Client responsiveness).

• A Custom Color Palette and Inspiration Room included in Design Board

• Select and Source Merchandise for your Project via Retailers and Online Stores

• A Master Shopping List with Links for easy purchasing

• Designer Direction and Notes

• 1-week of post-design support

Design Deluxe Package (1 Room) - $350

Includes:

· Discovery 30 Min Zoom Call to discuss project with your Designer

· Project Instruction and Budget Guide

· 1 Draft Design Board for Client Revisions

· Up to 2 Rounds of Client Feedback/Revisions

· 1 Final Design Board with Furniture & Décor selections. Board delivered within 2 weeks (time frame is dependent on Client responsiveness).

· A Custom Color Palette and Inspiration Room included in Design Board

· Select and Source Merchandise for your Project via Retailers and Online Stores

· A Master Shopping List with Links for easy purchasing

· Itemized Furniture Floor Plan

· Designer Direction and Notes

· Direct online messaging with your Designer

·2-weeks of post-design support

E-Design Premium Package (1 Room) - $550

Includes:

· Discovery 30 Min Zoom Call to discuss project with your Designer

· Project Instruction and Budget Guide

· 2 Draft Design Boards and Client chooses ONE for Feedback/Revisions

· Up to 3 Rounds of Client Feedback/Revisions

· 1 Final Design Board with Furniture & Décor selections. Board delivered within 2 weeks (time frame is dependent on Client responsiveness).

· A Custom Color Palette and Inspiration Room included in Design Board

· Select and Source Merchandise for your Project via Retailers and Online Stores

· A Master Shopping List with Links for easy purchasing

· Itemized Furniture Floor Plan

· Designer Direction and Notes

· Direct online messaging with your Designer

· 3-weeks of post-design support

**This e-design package is a digital product — no physical products will be mailed.

client will be responsible for ordering their own products from the shopping links provided

and also accepting delivery & handling installation.




Refunds, Terms & Conditions

Due to the digital nature of this item, we are unable to offer refunds or exchanges, but please contact us if you have trouble with your order. By purchasing this product, you are agreeing to our Terms & Conditions. Please contact us​ here for any questions prior to purchase.

Not sure what service will work best for your home? please fill out the form below and we will get back to you shortly. thank you!​

0

/